April Hot Wheels Giveaways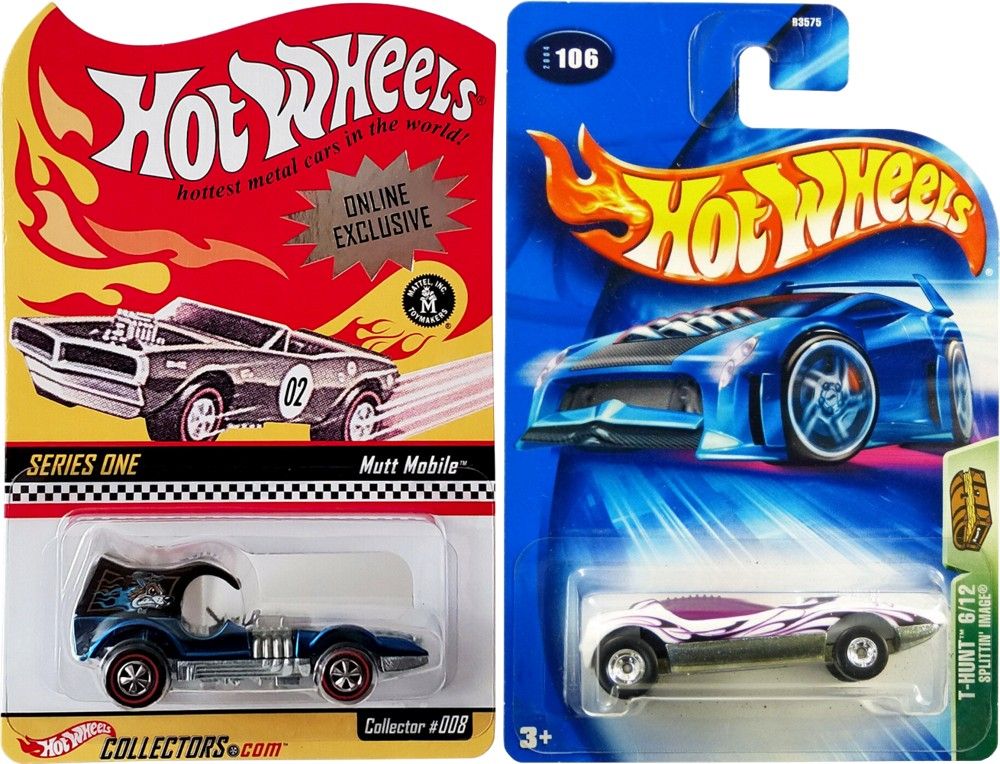 Get ready to rev up your engines and race into April with new and exciting Hot Wheels giveaways!
Series One Mutt Mobile - A Red Line Club car from 2002 that sports a fiery dog mascot and rides on classic redline wheels. It is individually numbered and limited to 10,000.
Splittin' Image - A 2004 Treasure Hunt that flaunts black and purple flames and is equipped with Deep Dish Real Rider wheels.
Eligible HWheadline subscribers are automatically entered into the two giveaways.
More Hot Wheels Giveaways
This month, the 23rd Annual Collectors Nationals takes place from April 5 - 9 in Columbus, Ohio. At the event, there are thousands of collectors and vendors with lots and lots of cool and unusual Hot Wheels.
Many of us won't get to go to this huge Hot Wheels event. But that doesn't mean you won't have a chance to add unique Hot Wheels cars to your collection.
From the 5th to the 9th, I'll be sharing several giveaways, giving you the opportunity to win fantastic prizes such as a Super Treasure Hunt and other awesome Hot Wheels.
Here's a preview of the cars you may have a chance to win.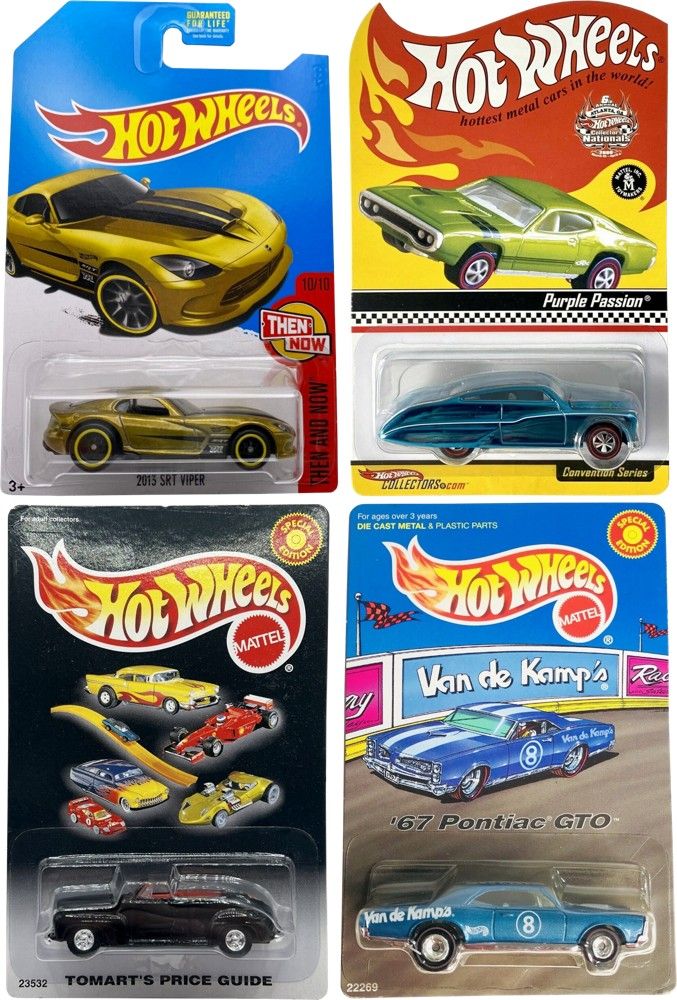 2013 SRT Viper - A 2017 Super Treasure Hunt decorated with Spectraflame gold paint and black stripes on the hood and sides.
Purple Passion - From the 6th Annual Hot Wheels Nationals Convention in 2006, the car is a mesmerizing Spectraflame Aqua and furnished with classic redline tires.
'47 Ford - A 2000 exclusive from Tomart's Price Guide, this convertible is black complemented by a red interior, and comes equipped with Real Rider wheels.
'67 Pontiac GTO - Another promotional car from 2000, the Van de Kamp's GTO is blue decked out with white double stripes, an "8" on the doors, and Real Rider wheels with redline tires.
---
Congratulations
Congratulations to the winners of February's Hot Wheels giveaways.
Everton H. from Miami, FL won the 2002 Series One Surf Crate.
Jason B. from New Milford, NJ won the Cey Adams "LOVE" 70s Van.
Raul C. from Los Angeles, CA won the 2008 Collector Edition VW Drag Truck.
Gwen F. from Byron, GA won the 2003 Midnight Otto Treasure Hunt.
---
Winner selection and notification for the March giveaways will begin on or about April 7.
Good luck and have a great day!
Jamey
---
Sweepstakes are open to legal residents of the fifty (50) United States and District of Columbia who are eighteen (18) years of age or older at time of entry. No purchase necessary. See the Official Rules for more details.